I had a difficult love/hate relationship with Windows Phone (later Windows Mobile), but the one thing I miss is the tiled home screen. It was genius! But as an Android user, it's of course nothing that stops me from recreating that feature.
When Steve Ballmer announced Windows Phone 7 at the Mobile World Congress back in 2010, I sat on the first row with a "press" tag on my chest as an editor for Mobile Business Magazine, and I fell in love with those tiles!
I stuck with Windows Phone/Mobile as my primary driver all up until the Windows Mobile 10 upgrade ruined my beloved bright yellow Nokia Lumia 1520. By then I was really fed up with the lack of apps, crappy multitasking, and broken promises of updates for Microsoft Mobile Office…. but I still loved those tiles.
Microsoft Launcher for Android
When Microsoft bought Arrow Launcher I was sure they had intentions of bringing back the tiles, but alass, they just rebranded the good, but not great Android launcher and integrated some Microsoft services into it. Missed opportunity to give some love to all their Windows Phone entusiasts out there if you ask me.
Square Home Launcher
There have been many third-party Android launcher that have tried to replicate the tiles from Windows Phone, but I haven't felt that any of them have succeeded in doing so, until I found Square Home. Sure, you still must do a lot of configurations if you want to make your home screen look great, but this launcher is so complete in features and design that you really can make it as good as the Tiles on Windows Mobile 10 was. By adding tiles and shortcuts you can make it even better actually.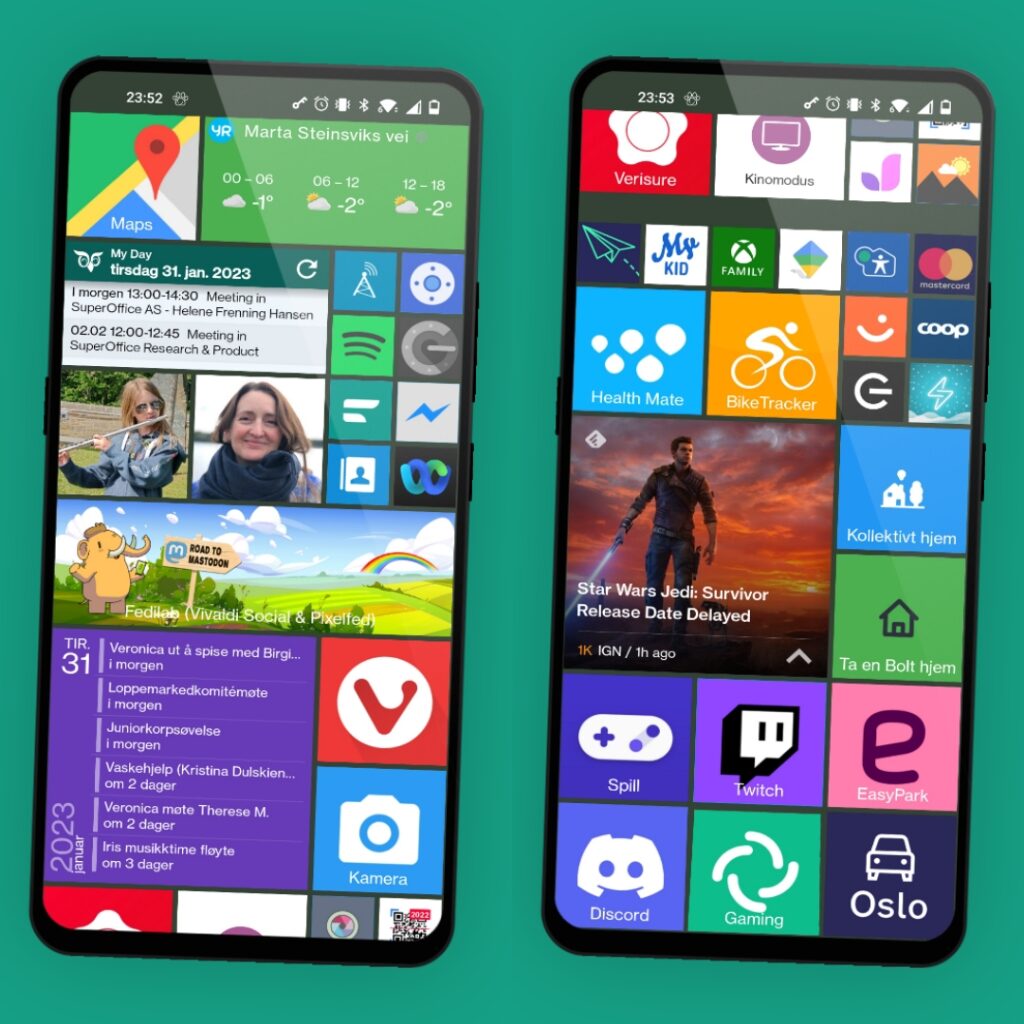 The picture above shows my current home screen setup. It is only one screen that I scroll down, I just created two images to show everything. You can however create different pages if you want, and swipe left/right like an ordinary launcher, but I like to stick with the original idea of a long vertical home screen. You can also see that I use a mix of widgets, apps, and shortcuts on my home screen. You can even change the app icon with an image, like I've done with the Fedilab app where I use a long picture as a tile instead.
You can also create actions for long press on a tile. I've done that with most of the shortcuts. For example: with the public transport app "Ruter" I have a tile that is a shortcut to calculate the fastest trip home, but if I long press, it does another shortcut that just buys a standard ticket.
Swipe to (Sesame) search
What do I not like about the Square Home launcher? I don't like the app drawer or the contact list, so instead I've created a swipe action to start Sesame search when I swipe from the bottom or the right. I just love Sesame search, but that is the topic for another day.