This picture is from January, it was about -7 degrees Celsius, and I was on my way to work downtown Oslo, a ride that takes about 35 minutes. It had been snowing quite a lot the previous day, so Oslo was covered in bright white snow that glowed like tiny crystals in the morning light. It was a fantastic day for a bike ride.
Some people think I'm crazy riding my bike to work in the middle of the winter here in Norway, but it's actually really nice to ride on the coldest days. Much better than riding in the summer rain (and that isn't really that bad either).
There are just a few things to consider when riding at wintertime:
If it's snow and ice where you live, buy studded tires, good, studded tires! Then all of the sudden, snow and ice are no challenge anymore, in fact; riding on hard snow is really fun.
The bike must have fenders and a rear bike rack.
Don't buy fancy sportswear. Have a good and thin pair of Gore-Tex based jacket and pants one size to large and have different layers of regular clothes under depending on the cold (a few days of trials and errors and you've got it).
When it gets cold; use cross country skiing gloves from +5 to 0 degrees Celsius, and thick alpine "lobster gloves" below 0 degrees Celsius. When below 0, consider replacing your helmet with an alpine helmet and goggles (see picture above). Don't forget warm shoes, maybe with some cheap rain covers. I love my Adidas Terrex Snowpitch.
A pannier bag (not a backpack) to carry the extra clothing. This is why the rear bike rack from point two of this list is important 😉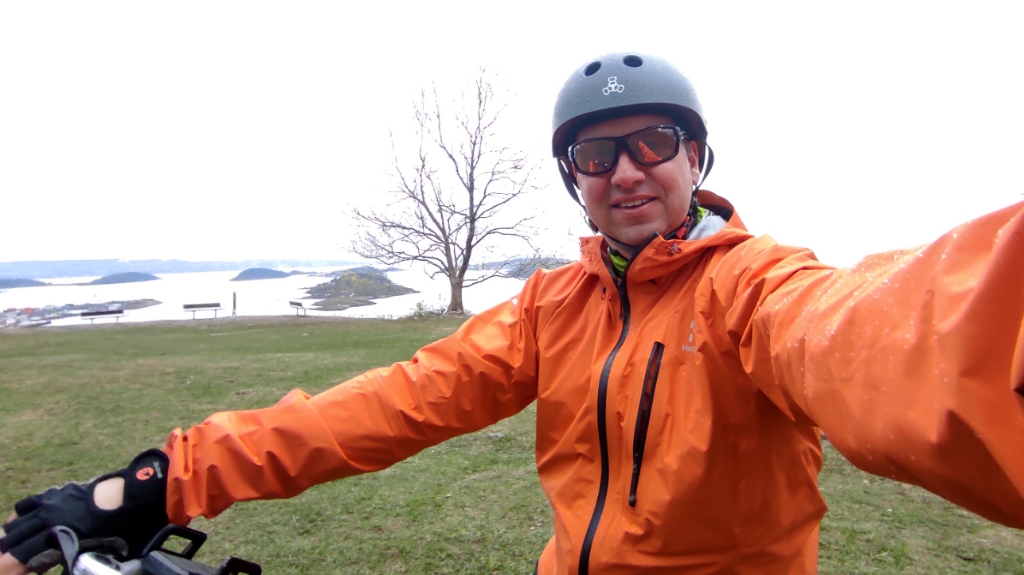 What bike to ride?
Since I have thirteen kilometers to work, going up and down 230 meters in altitude, I'm riding an electric bike. My bike is from the Norwegian brand Elife, and a model called Puma S III. It's based on a Bafang M600S motor with Gates belt drive and Enviolo stepless shifting hub.
It's f***ing expensive, but absolutely worth it 😎
When deciding what bike to get, consider your budget and try a lot of bikes that are at the very max of your budget. If you are going to ride at winter and your area have a mix of snow, rain, and ice, you should really consider going for a belt drive. It's expensive, but practically maintenance free. No more rusted chains and frozen derailleurs to worry about.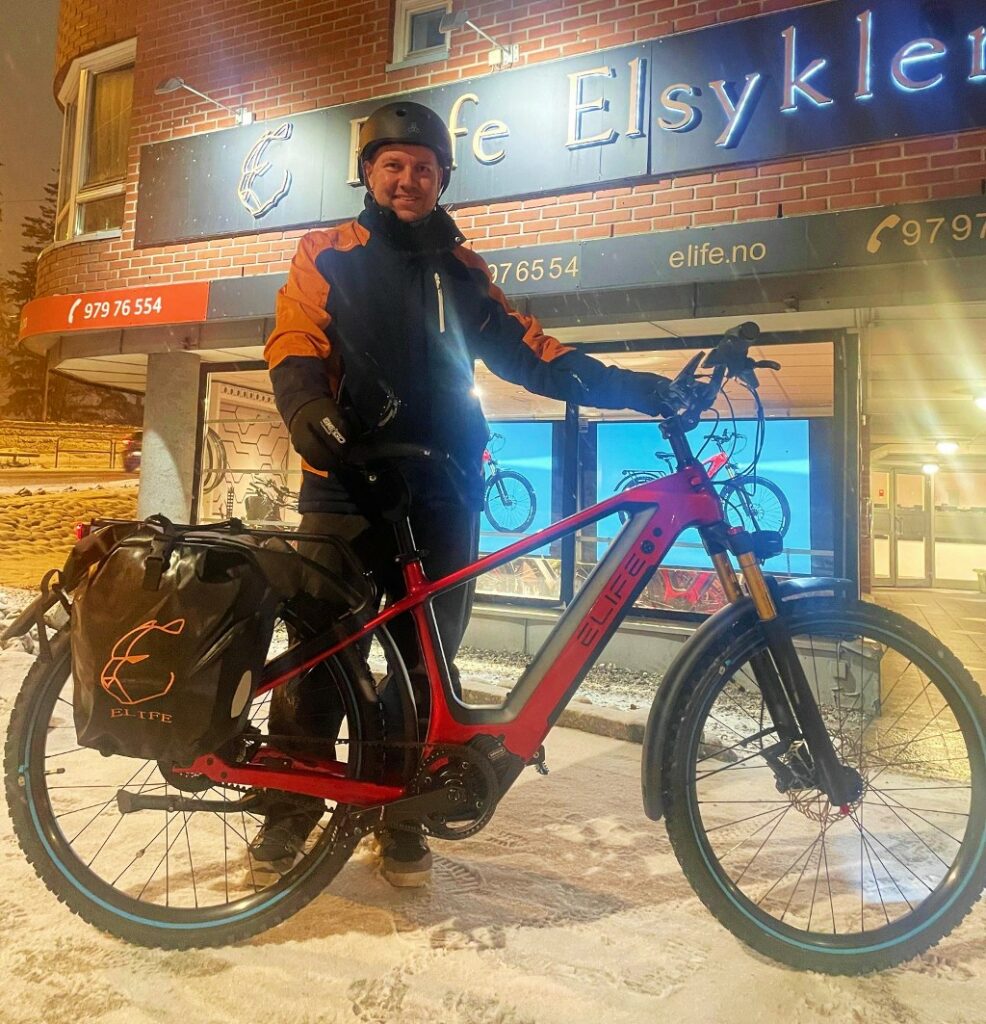 Any last words?
So, you've got a good bike and some necessary gear and clothes, now you just have to get on the road. Don't think of it as exercise, don't try to set a new record, just enjoy the ride.
Clear your mind, look around you and ponder about important and trivial things as the road winds on down at a steady pace of about +/- 20 km/h.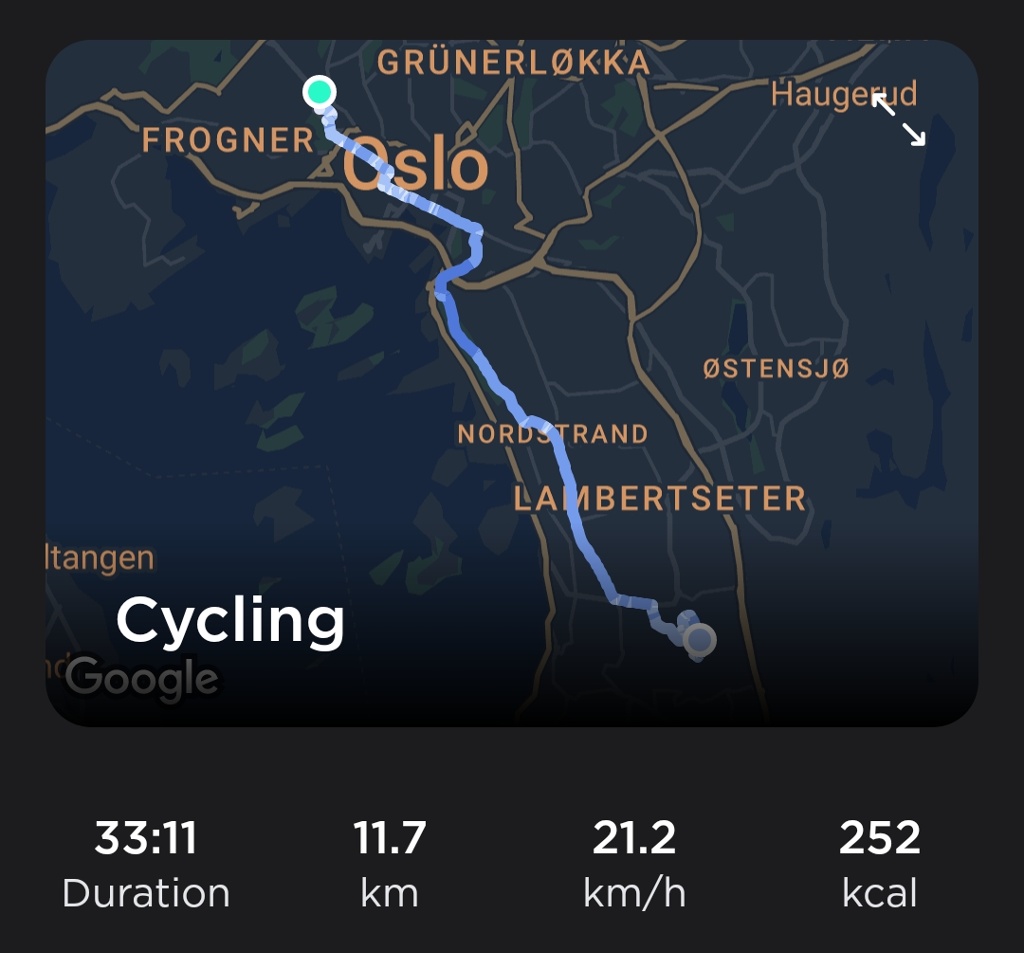 My route to work takes me through some small and cozy suburban streets with big houses (Nordstrand), along a road with a stunning view of the Oslo fjord and through the most urban streets along the harbour (Bjørvika) past the opera before I head up to the king's castle where our offices are just across the king's park (Slottsparken).
I think it's almost better when it's freezing cold because then the air is so crisp and fresh, there aren't many people out, there's even fever cars. It really gives you time to think and solve world problems while you get the pulse pumping, reducing the risk of an early death from heart and vascular disease by 20%.
Yeah, that's right. Just riding an eBike at least once a week to work will increase your life expectancy by several years. It's well documented! So don't just ride a bike for the environment, ride it so you can spend more healthy years with your children 😉