Personally, I love a good profile page. When I decide if I want to follow someone or not, I always look at their profile page, and I often change my own profile. Here are some thoughts on how and why you should change yours.
Note: In this blogpost I use Vivaldi Social as example, but everything here is the same for any Mastodon instance.
Settings / Profile / Appearance
This is where you start building your Vivaldi Social profile.
First of all; your display name. It doesn't need to just be your (nick)name. I've added an emoji and to geek out a bit I've used the code for my written language (Norsk Bokmål).
Then there is the most important thing on your profile, your bio. I know the bio on Mastodon kan be a lot longer than on many other social media platforms, but I love a short and presise on that can tell me in as few words as possible what the person usually writes about.
I'll talk about the header picture further down, it's not that important I think, but is a good opportunity to give your profile some color at the same time as you can describe something about you to the viewers without words.
The avatar should either be a picture of you, or something that defines you in a way.
Remember that in Vivaldi Social you use the same avatar for all the Vivaldi.net community, so it's a bit different that other Mastodon instances in that you must set your profile in the community instead of in Mastodon. Give it a few minutes to update everywhere.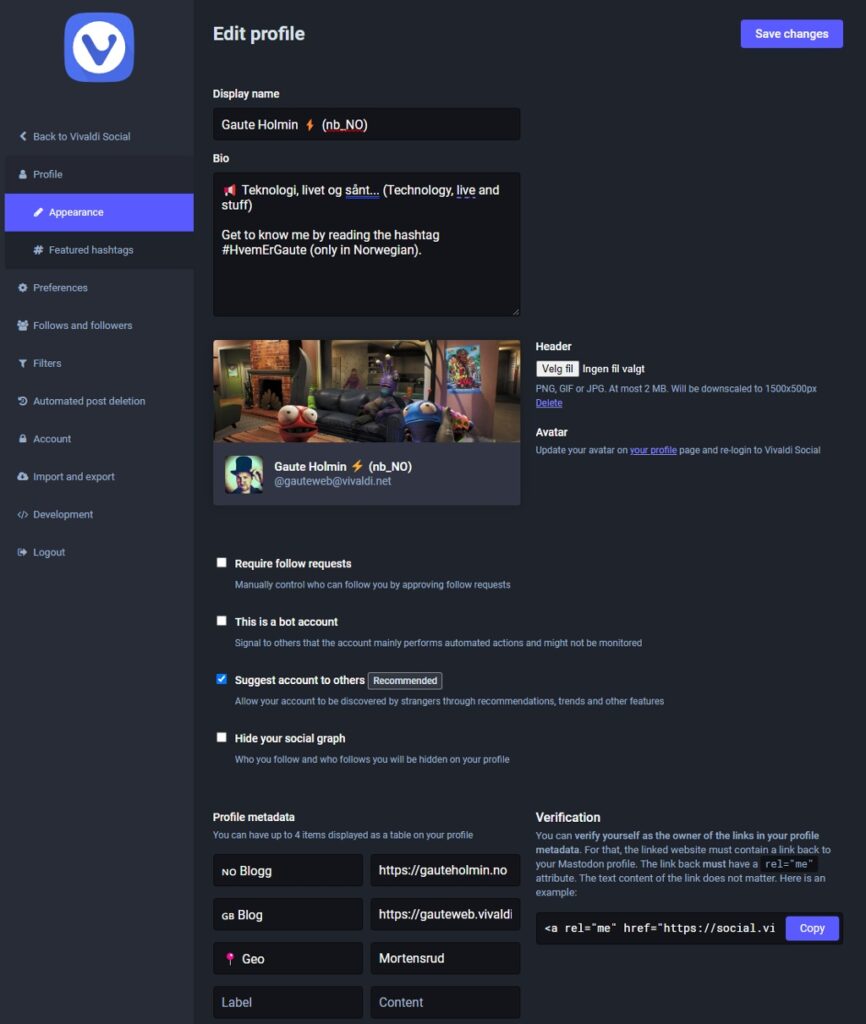 The cool thing about Vivaldi Social (or any other Mastodon instance), is the possibility to set "Profile metadata". This will be shown as a table in your profile, and you can have five of them. It can be text, links, or hashtags (that become links). Remember that you can use emojis here as well, just to add more color and style.
The last two things I've changed in the "appearance" dialog in settings is that I've checked the "Suggest account to others" and unchecked "hide your social graph" to be more discoverable and allow the viewers to see who you follow (show me your friends and I'll tell you who you are).
Add verified website
If you own your own website, it's also quite easy to create a "verified website" (the green link) by adding a custom link to your Vivaldi Sosial profile.
There are many ways of doing this, the easiest way if you are running av WordPress based website is just to add a link in a "custom HTML" block in a widget or page.
For Vivaldi Blogs I haven't found a widget I could use, and since it's a hosted WordPress site, it's not possible to add your own extensions, but one way is to link to a page, like for example if you create an About me page, and then just add a custom HTML block like this:

Create a header image
As I said, I don't think the header image is that important, but it's cool if you have one. The image should be sized at 1500x500px. If not, Mastodon will resize it automatically and it may end up not just like you'd want it. I use the free image tool Pixlr X to edit images, and here you can crop to predefined formats. If you choose "Twitter header", it's the same size: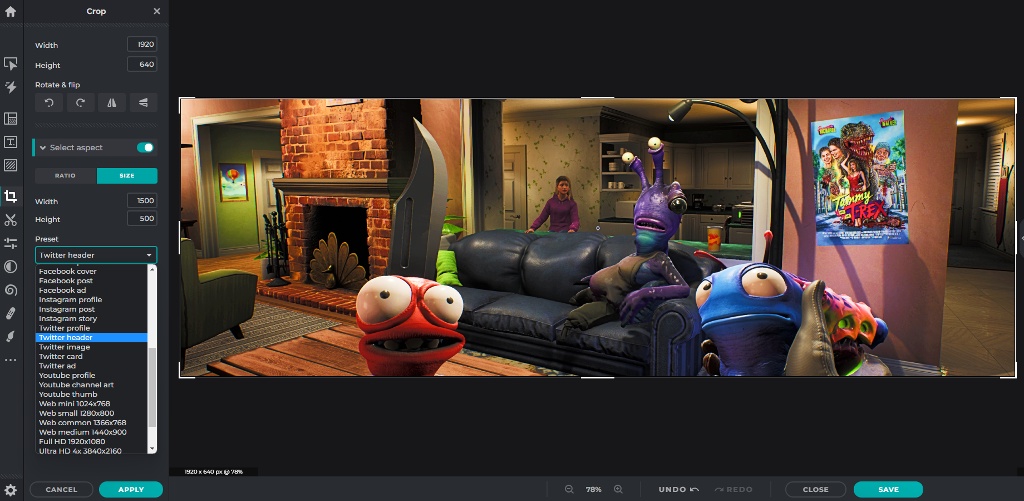 Remember to think about if you have the rights to use the image or that it's a royalty free image (like creative commons or similar). In the example here, I'm using a screenshot I took while playing my new favorite game, High on Life.
If it's not you own image, you can find many cool images to use on free image databases like for example Pixabay.
Featured hashtags
I'm very unsure about the value of this, if anybody actually click these, but you can also set some featured hashtags that will be shown in the bottom right corner of your profile, but only when viewed on a desktop.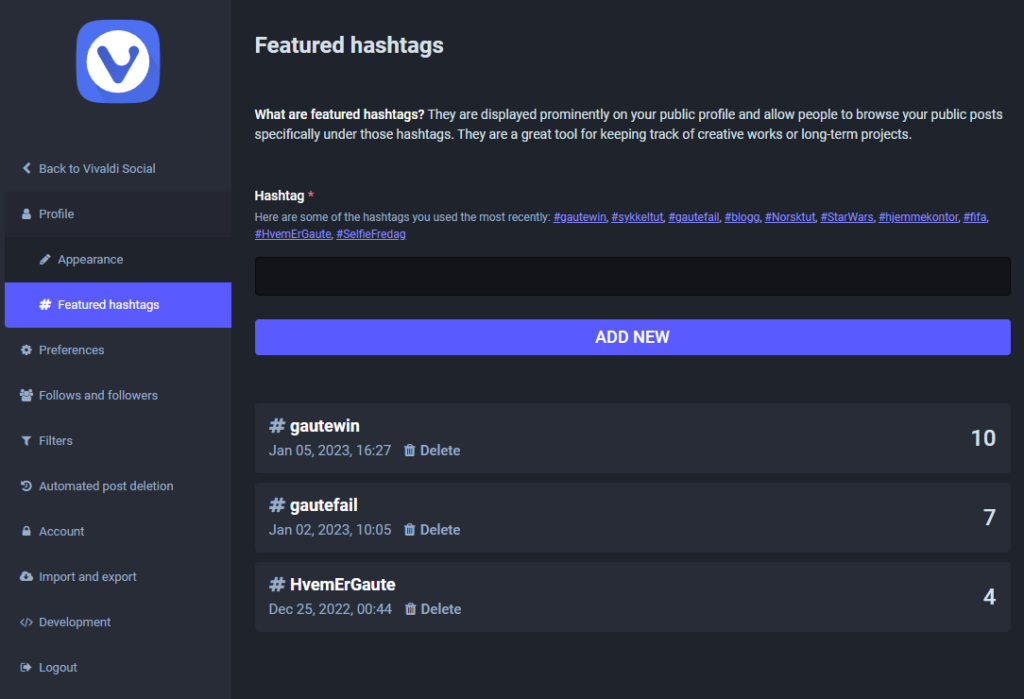 You can set any hashtag that you've used, and Mastodon will create links that filter posts you've posted using those hashtags.
That's it
I love to play around with my profile, changing header image, description, and metadata.
So everything may look different from these examples if you visit my Vivaldi Social profile today 😉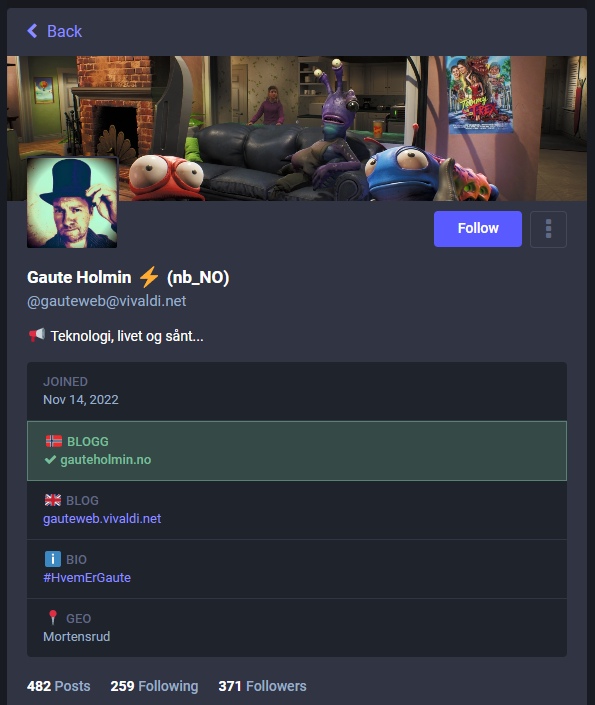 Are you happy with your profile? Show me your profile with a link in the comments 😉