During the pandemic I found this old hobby I'd almost forgotten about: the "desksetup". As an old gamer I used to build my own computers and I loved to organize a good setup on the desk. It has been over 15 years since last, and a lot has changed in options since the early 2000.
My oldest daughter had a lot of home school and quarantines during the pandemic. During that period, she found gaming. I realised that we needed to get a gaming computer. Myself, I'd almost forgotten about PC-gaming as I the last decades had focused on mobile gaming and retro gaming (emulation of old consoles). So, I decided to try and build a computer myself. With a little help from my cousin's son, I designed what was supposed to be a "budget gaming PC". It ended up being a bit more expensive than the original budget, but that's another story.
Let's talk about what is on the desk first:
Deltaco GAM-075 60% keyboard modified with DSA profile keycaps, mostly from KBDfans, and a cool BB8 artisan keycap from Joode3D
Glorious Model D – mouse with a Glorious Mouse Bungee
Nacon PRO Compact Controller
Sparkfox Atlas Wireless Controller
Elgato Stream Decks, a Mini and an original
Xiaomi Gaming Monitor 34″ with a second-hand AOC 14″ monitor as support mounted on a Iiglo MM200 monitor stand
Microsoft LifeCam Cinema (webcam)
HyperX Cloud Alpha Wireless headphones modified with a pair of Wicked Cushions
Cambridge SoundWorks Digital 2+1 speakers and subwoofer
The desk itself is from IKEA (Lillåsen) modified with RGB LED-lights in the back, also from IKEA (Ledberg). You can also spot a Nintendo Game & Watch (the revamped Super Mario version) and a dead cheap extra-large mouse pad from Wish.
On the top of the vertically mounted AOC monitor I have a LED light bar that reacts to sound.
The gaming PC
Since the desk is so small, I must keep the PC under my desk. It currently has the following specs:
NZXT H series H210 mini-ITX cabinet
SilentiumPC Vero L3 Bronze 600W PSU
Gigabyte B550I AORUS PRO AX
Gigabyte GeForce RTX 2060 Windforce OC 6GB
AMD Ryzen 5 3600 3.6GHz-4.2GHz
Cooler Master 212 EVO v2
Corsair Vengeance LPX 16GB 2666MHz
Intel Solid-State Drive 660p Series 512GB
Samsung 870 EVO 2TB SSD
AKASA Vegas LED Strip Blue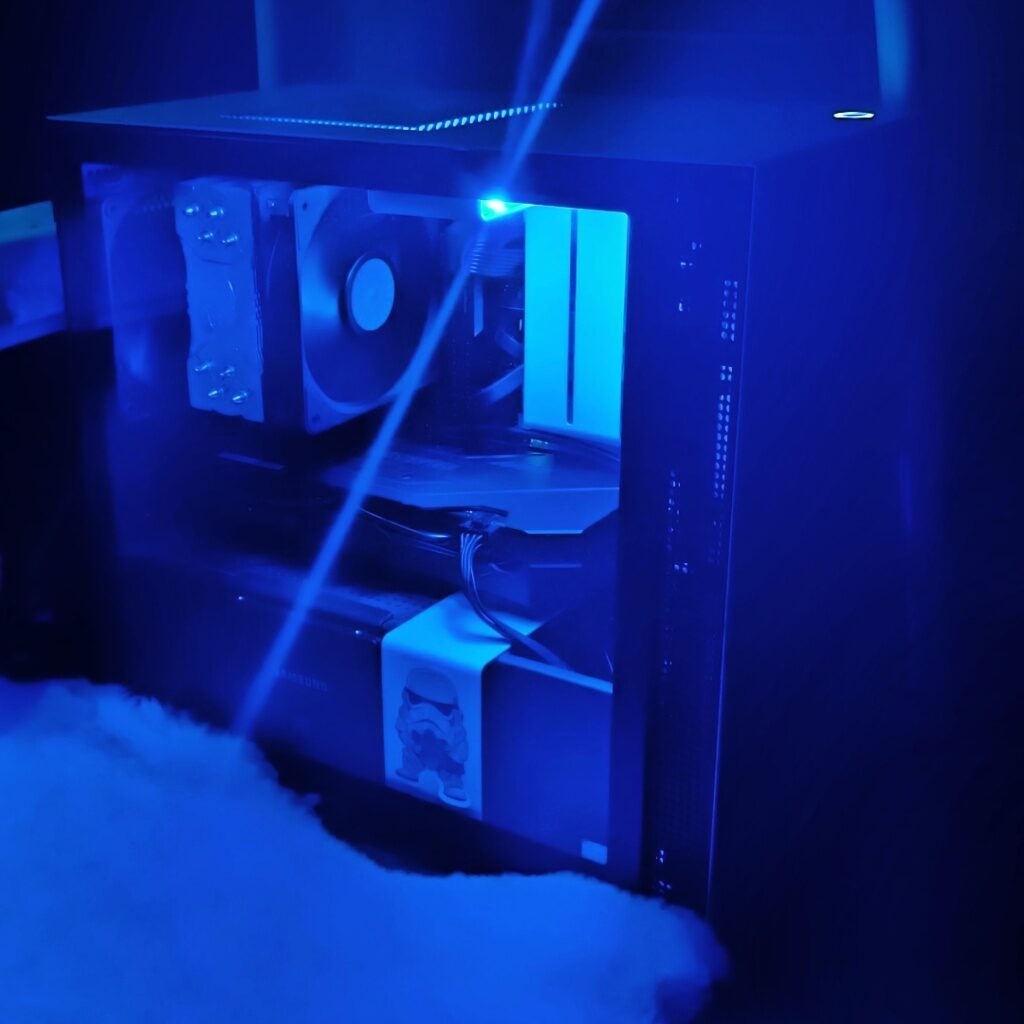 The first build back in 2021 did not include the Samsung 870 EVO 2TB SSD, AKASA Vegas LED Strip Blue or the Cooler Master 212 EVO v2. They were all added in 2022. I'm considering upgrading the GPU this year.